الجرارات are essential pieces of equipment for farmers and ranchers, and they come in a variety of sizes and horsepower. In this article, we're going to take a look at the best 300 hp tractor for sale currently available on the market. We'll discuss the different features that these tractors offer, as well as the pros and cons of each one. So whether you need a powerful tractor for general farm work or specific tasks, read on to find out which one is right for you!
What 300 hp tractor for sale?
There are many 300 hp الجرارات for sale on the market, so it is important to choose the right one for your needs. The best 300 hp tractor for sale will have a lot of features that you need and want. You should consider things like power, weight, fuel efficiency, and price when choosing a 300 hp tractor for sale.
Here are some of the best 300 hp tractor for sale available on the market today:
-The Best 300 Hp Tractor For Sale–أثقل جرار QILU 260HP التحديث:
The 260HP Modernization جرار زراعى has China's most advanced chassis, 8180KG weight good enough for everything, used in Russia, Australia, South America, African large farm operations are very popular
The 260HP Modernization Tractor has 16 Forward and 16 reverse shift gear, match separate F-R lever, more suitable for the driver's manipulation.
Hydraulic boost clutch pedal, LUK brand, wet type 17 inch dual stage clutch, in the state of half-clutch, it still runs well and is not easy to burn.
Air cushion seat, luxury cabin with air contioner and heater, stay comfortable whether it's hot or cold.
ARMOUR/Trelleborg/Michelin brand widened and enlarged radial tires, make the ground area larger, provide higher friction and traction, less slippery and longer service life.
The 260HP Modernization Tractor has 6 cylinder Shangchai or Weichai Engine, using high-pressure common rail injection technology to make the power more powerful.
98L/min hydraulic flow, working pressure 20 MPa, make carrying more advanced farm implements become reality.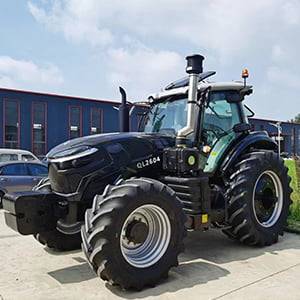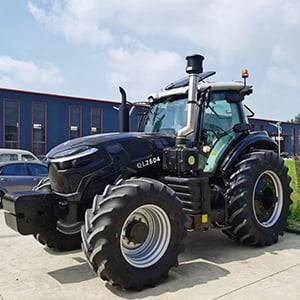 Pros and Cons of a 300 hp Tractor
There are a few key pros and cons to consider when choosing a 300 hp tractor for your farm. On the pro side, these machines can handle heavy loads with ease, making them great for farming activities like plowing and acreage maintenance. They also tend to be cheaper than models with higher horsepower ratings, making them a good option if you're on a tight budget. However, 300 hp tractors can be slower than more powerful models, so they may not be ideal if you need to move quickly across your property. Additionally, they require more maintenance than lower-horsepower tractors, so if you're looking to save time on your farm chores, it might be best to stick with a model in the lower range of horsepower.
Likelihood of Purchase
The odds are high that anyone in the market for a new horsepower tractor will. There are several reasons. First of all, hp tractors are reliable and have a long service life. Second, they are very large, making them an excellent choice for those with large farms. Finally, there are many different options to choose from, so everyone should be able to find the perfect tractor for their needs.
What are the Best Types of Tractors?
There are many types of tractors on the market, but which is the best for your needs? Here are three types of tractor that can all be used for various purposes.
The first type of tractor is a standard tractor. These tractors are versatile and can be used for a variety of tasks, such as planting and harvesting crops. They also tend to be cheaper than other types of tractors.
The next type of tractor is a mini tractor. These tractors are smaller and often used for planting or harvesting smaller crops. They also tend to be more affordable than standard tractors.
The third type of tractor is a diesel tractor. These tractors are often more expensive than other types, but they have many benefits over traditional gasoline-powered tractors. Diesel engines are more fuel-efficient, which means you will use less gasoline overall to operate them. Additionally, diesel engines generate less noise than gasoline engines, which can make them easier to operate in noisy environments.
استنتاج
If you are in the market for a 300 hp tractor, we have some excellent choices to recommend. Each of these models has proven itself as a reliable and powerful machine, perfect for tasks around the farm or yard. Hopefully, this guide has helped you find the perfect tractor for your needs, and if not, be sure to get in touch with one of our team members here at Qilu. We would be happy to help you choose the best model for your needs.