If you're looking for a reliable, cost-effective solution to farm work, tractors are the way to go – and with so many different types available in China, it can be tricky to decide which one is right for you. In this article, we'll take a look at the different options out there and explain how each one is best suited for a particular task or environment.
Introduction to tractor
There are many different types for sale in China. They range from the very small and lightweight mini-tractors, to the large and powerful agricultural tractors. There is a tractor to suit every need and budget.
The most popular type in China is the mini-tractor. These tractors are very versatile and can be used for a variety of tasks such as ploughing, tilling, planting, andharvesting. They are also very affordable, making them a great option for small-scale farmers or hobbyists.
If you need a more powerful tractor for your farming or construction business, then you should consider an agricultural tractor. These tractors are much larger and more powerful than mini-tractors, and they come with a variety of attachments that makes them perfect for a wide range of tasks. However, they are also more expensive than mini-tractors.
No matter what your needs are, there is sure to be a tractor that is perfect for you in China. With so many different types and models available, you are sure to find the perfect one at the right price.
Several types of tractor for sale in China
1.Small horsepower-Kundenspezifischer 25-PS-Traktorlieferant QL-254Y/E
Kundenspezifischer 25-PS-Traktor QL-254Y
Maßgeschneiderte 25PS Traktor Lieferant QL-254A,Eine Reihe wirtschaftlicher und praktischer 25-PS-Traktoren, die mit einem Y-Chassis mit fortschrittlicher Qilu-Struktur ausgestattet sind, können die Anforderungen verschiedener landwirtschaftlicher Maschinen von Kunden erfüllen, die für kleine Parzellen wie Familienbetriebe geeignet sind, und können allgemeine landwirtschaftliche Betriebe erfüllen.
It is equipped with a high-quality engine with a large torque reserve and strong power. Power emission upgrade, more advanced performance, low fuel consumption, and high reliability.
It has more advanced technology.
Vordere Antriebsachse der berühmten Marke mit hoher Zuverlässigkeit. Das Übertragungssystem verwendet leistungsstarke Zahnräder, die langlebiger sind. Optionaler externer Doppelölzylinder, der Arbeitseffekt ist besser. 8 + 2 Gänge werden angenommen, und die Geschwindigkeitsanpassung ist angemessen.
It is more comfortable to drive: the classic removable awning. Full hydraulic steering system, easy and flexible operation. New streamlined body design, beautiful appearance, wider field of vision.
Der kundenspezifische 25-PS-Traktor arbeitet mit hoher Effizienz.
Die Leistungsabgabedrehzahl kann mit 540/720 U / min gewählt werden, was mit einer Vielzahl von Landmaschinen abgestimmt werden kann und ein breiteres Anwendungsspektrum bietet.
Das angetriebene Modell unseres kundenspezifischen 25-PS-Traktors ist ein Allradantrieb und wird mit Laidong 4-Zylindern geliefert. Die Motorleistung beträgt 25 PS, die einen hohen Wirkungsgrad haben. Egal, ob Sie landwirtschaftliche, Bau- oder Gartenarbeiten ausführen möchten, diese kleinen Traktoren können Ihnen bei allem helfen.
It is equipped with hydraulic steering, allowing for much more ease of use and operation.
Es hat 8F + 2R-Gänge. Die Gesamtabmessung beträgt 3450 mm * 1300 mm * 2000 mm.
Es hat Anpassungsfähigkeit. Diese Geräte sind aufgrund ihrer Größe flexibel und anpassungsfähig, um viele Aufgaben zu bewältigen und jederzeit problemlos zwischen Jobs zu wechseln.
Sie haben viele Möglichkeiten für optionale Ausrüstung, wie Frontballast und Heckballast, Seile, Baldachin, Luftkompressor, Schaukel und Lüfterkabine usw.
Kundenspezifischer 25-PS-Traktor QL-254E
It is 50HP,comes with Laidong four cylinders engine, Ⅱ stages standard. The engine owns water cooling technology, which is superior to air cooling. The driving mode is four-wheel drive. The fuel tank volume is 30L.
Der Geschwindigkeitsgang ist 8 + 2, der Wendegang 8F + 8R könnte geändert werden.
Some optional equipment such as Front ballast, Rear ballast, Rops and Canopy could be added upon your request.
Der Bauernhof Traktor und alle Zubehörteile haben eine Garantie von 1 Jahr.
2.best value for money tractor-China Traktor 50 PS Lieferant QL-504G
China Traktor Der 50-PS-Lieferant QL-504G,Kompakttraktor der G-Serie verfügt über eine starke Leistung, die kleinste Arbeitsgröße der Branche und eine fortschrittliche Struktur. Maßgeschneidert für den Gewächshausbetrieb
50 PS Traktor mit starker Leistung und fortschrittlicher Struktur
Ausgestattet mit dem hochwertigen Motor der berühmten Marke, großer Drehmomentreserve und starker Leistung. Leistungssteigerung, verbesserte Leistung, geringer Kraftstoffverbrauch und hohe Zuverlässigkeit.
It more advanced technology
Verstärkte abgedichtete Vorderachse für höhere Zuverlässigkeit.
Durch die Einführung einer neuen Art von Hochdruckaufzügen ist die Bedienung bequemer und flexibler.
Das Übertragungssystem verwendet leistungsstarke Zahnräder, die langlebiger sind.
Ausgestattet mit einem externen Doppelölzylinder ist der Arbeitseffekt besser.
It works more efficiently
Das 8+2-Schichtsystem wird übernommen, die Geschwindigkeitsanpassung ist angemessen und die Arbeitseffizienz ist hoch.
Die Leistungsabgabedrehzahl kann mit 540/720 U / min gewählt werden, was mit einer Vielzahl von Landmaschinen abgestimmt werden kann und ein breiteres Anwendungsspektrum bietet.
It is more comfortable to drive
Vollhydraulisches Lenksystem, einfache und flexible Bedienung.
Das neue stromlinienförmige Rumpfdesign hat ein schönes Aussehen und ein breiteres Sichtfeld.
Traktor 50 PS Lieferant, 50 PS Traktor ergonomisch gestalteter Vorsteuerbetrieb und Schaltersteuerung, einfach zu bedienen und verbessert den Arbeitskomfort; wartungsfreundlich, einfach zu warten und zu überholen.
3.high horsepower-The Heaviest QILU 260HP Modernization Tractor
It has China's most advanced chassis, 8180KG weight good enough for everything, used in Russia, Australia, South America, African large farm operations are very popular
It has 16 Forward and 16 reverse shift gear, match separate F-R lever, more suitable for the driver's manipulation.
Hydraulic boost clutch pedal, LUK brand, wet type 17 inch dual stage clutch, in the state of half-clutch, it still runs well and is not easy to burn.
Air cushion seat, luxury cabin with air contioner and heater, stay comfortable whether it's hot or cold.
ARMOUR/Trelleborg/Michelin brand widened and enlarged radial tires, make the ground area larger, provide higher friction and traction, less slippery and longer service life.
It has 6 cylinder Shangchai or Weichai Engine, using high-pressure common rail injection technology to make the power more powerful.
98L/min hydraulic flow, working pressure 20 MPa, make carrying more advanced farm implements become reality.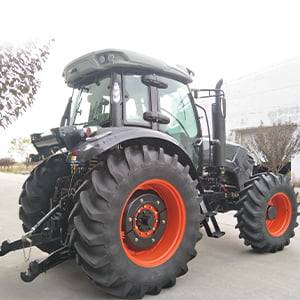 Different Types for Sale in China
-Farm tractor
-Construction tractor
-Logging tractor
-Mining tractor
There are several different types of tractors for sale in China. The most common type of tractor is the farm tractor. Farm tractors are used for a variety of tasks on the farm, such as plowing fields, harvesting crops, and hauling hay. Construction tractors are used for tasks such as digging trenches and hauling construction materials. Logging tractors are used for tasks such as skidding logs and loading lumber onto trucks. Mining tractors are used for tasks such as hauling ore and operating underground mine railways.
How to Choose the Right Tractor for Your Needs
When it comes to choosing the right tractor for your needs, there are several things you need to take into account. First of all, you need to decide what type of tractor you need. Do you need a compact tractor for small plots of land? Or do you need a larger agricultural tractor for farming?
Then, you need to consider what kind of powertrain you need. Are you looking for a diesel tractor or a gasoline tractor? What kind of transmission do you need- manual or automatic?
Finally, you need to think about the attachments and implements you'll need to use with your tractor. Do you need a front-end loader? A backhoe? A rotary tiller? Make sure to choose a tractor that is compatible with the attachments and implements you'll be using.
By taking all of these factors into account, you can be sure to choose the right tractor for your needs.