If you're in the market for a mini excavator, then you'll want to make sure that you have all the information necessary to find the machine that will be best for your needs. Yanmar Mini Excavator for sale, we'll review everything you need to know before buying a Yanmar mini excavator, from the types and features of machines available to the advantages and disadvantages of owning one. Read on to find out more about these powerful pieces of equipment!
Yanmar Mini Excavator for sale-What is a Yanmar Mini Excavator?
A Yanmar mini excavator is a small, tracked excavator that is often used for construction and landscaping projects. These excavators are nimble and versatile, making them ideal for tight spaces and difficult-to-reach areas. Mini excavators typically have an operating weight of less than 10 tons and a bucket size of 0.4 to 0.7 cubic meters. Yanmar is a leading manufacturer of mini excavators, and their machines are known for being durable and easy to operate.
Yanmar Mini Excavator for sale
Yanmar Mini Excavator for sale-Kundenspezifischer 2,5-Tonnen-Bagger Hersteller QLN-25Pro
Kundenspezifischer 2,5-t-Baggerhersteller QLN-25Pro,als neu entwickelter 2,5-t-Minibagger, integriert Energieeinsparung, Zuverlässigkeit, Komfort, flexiblen Betrieb und geringe Geräuschentwicklung. Weit verbreitet in Baustellen, Gärten, Gemeinden, Städten und anderen kleinen Räumen.
Der 2,5-t-Minibagger ist mit einem importierten Kubota-Motor ausgestattet. Die zerlegte Kabine, Schaufel, Stiel, Zylinderschutz und Bodenplatte sind alle aus hochfestem Stahlguss. Der super kostengünstige 1,7-t-Minibagger ist Ihre Wahl wert.
2,5-t-Kleinbagger-Arbeitsgerät, Pilotbetrieb und Schaltersteuerung, humanisiertes Design, einfach zu bedienen, verbessert den Arbeitskomfort, wartungsfreundlich, die Gesamthaube kann angehoben und abgesenkt werden, einfach zu warten und zu reparieren; Das Raupenfahrwerk ist reduziert, um den Anforderungen kleiner Flächen besser gerecht zu werden.
Löffel, Stiel, Zylinderschutz und Bodenplatte des 2,5-t-Minibaggers sind allesamt aus hochfestem Stahlguss gefertigt. Super kostengünstig, würdig Ihrer Wahl.
Er kann mit Zubehör wie Drehbohrer, Brecher, Aufreißer, Tieflöffel, Sieblöffel, Ladelöffel, Greiflöffel usw. mit höherem Mehrwert ausgestattet werden.
Wenn Sie einen 2,5-t-Bagger benötigen, wenden Sie sich bitte an uns. Qilu bietet Ihnen einen fachkundigen Service.
Der QLN-25PRO ist mit einem importierten Yanmar-Motor aus Japan ausgestattet. Das Betriebsgewicht beträgt 2500 kg. Das Schaufelvolumen dieses Baggers beträgt 0,066 Kubikmeter. Die maximale Grabhöhe des QLN-25PRO beträgt 2550 mm, die maximale Grabtiefe 2320 mm, die maximale Grabreichweite 4140 mm.
Um den Kunden ein bequemeres Arbeitserlebnis zu ermöglichen, verfügt der QLN-25PRO über die folgenden optionalen Upgrades: die Fahrgestellstreckung und die Seitenschwenkung des Baggerarms. Das Bulldozerblatt kann sich auch von 1300 mm bis 1500 mm erstrecken.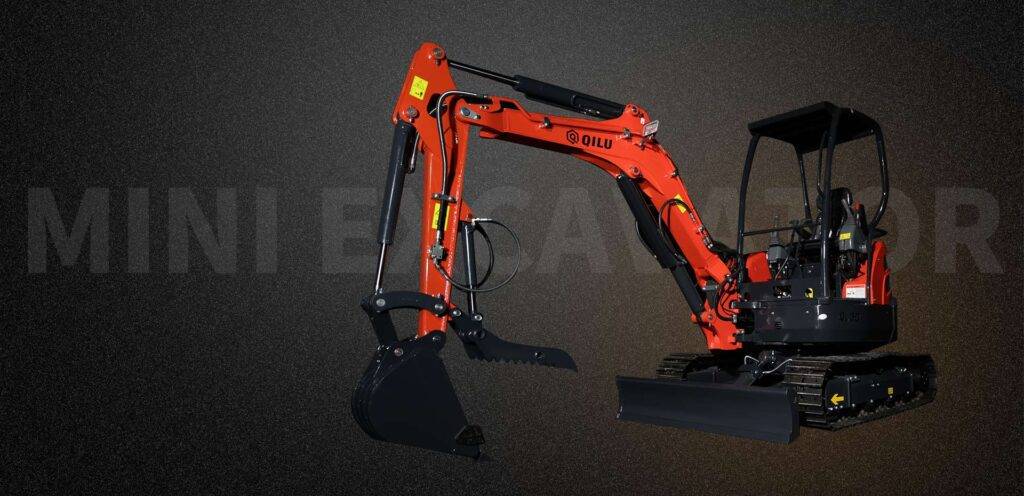 Yanmar Mini Excavator for sale-Benefits of Owning a Yanmar Mini Excavator
When it comes to excavators, there are many different types and sizes on the market. So, how do you know if a Yanmar mini excavator is the right choice for you and your project? In this blog post, we'll go over everything you need to know about these versatile machines, including their benefits and features.
Yanmar mini excavators are perfect for a variety of projects, both big and small. Here are just a few of the benefits of owning one:
They're easy to operate and maneuver.
They're compact in size, making them perfect for tight spaces or areas with limited access.
They're incredibly versatile and can be used for a variety of tasks, such as digging trenches, breaking up concrete, or removing tree stumps.
They're durable and built to last, meaning you won't have to replace your excavator anytime soon.
They offer a great return on investment and can help save you money in the long run.
Yanmar Mini Excavator for sale-Conclusion
No matter what kind of job you have planned for a Yanmar mini excavator, it's important to do your research and make sure you're making the right purchase. With this guide to buying a Yanmar mini excavator, we hope that you now feel more confident in choosing the perfect model for your project. Be sure to take into account all of the factors we discussed here when shopping around so that you can find an excavator that meets all of your needs and expectations. Good luck!