A blog article on the 2 types of 1 ton mini excavator found in China. The article talks about who uses these excavators, what they are used for and the pros and cons of each type.
Introduction
China is the world's second-largest economy and is also the world's largest excavator market. Manufacturers in China produce a large variety of mini excavators to meet the needs of various customers. These mini excavators come in two types: electric and diesel.
Electric mini excavators are powered by an electric motor and can work in narrow spaces or shallow depths. They are lightweight and easy to operate, making them ideal for use on small projects.
Diesel mini excavators are powered by a diesel engine and can work in deeper layers or wider areas. They are heavier than electric mini excavators but offer greater power and durability.
2 types 1 ton mini excavator in china
1.Chine 1.0T Mini Pelle Fabricant
Fabricant chinois d'excavatrice 1.0T QLN-10Pro, en tant que pelle 1.0T nouvellement conçue, est confortable, flexible et silencieuse. Il est largement utilisé dans les petits espaces tels que les chantiers de construction, les jardins, les municipalités et les villes.
The 1.0T mini excavator is newly upgraded to strengthen the support structure of the safety frame to ensure that the safety of the driver is more effectively protected in the event of a rollover. The humanized pilot operation and switch control design are convenient for operation and improve work comfort.
The 1.0T mini excavator is equipped with imported Kubota engine, the frame is welded structure, the load is distributed evenly, and the rigidity is good. Easy to maintain, the integrated hood is lifted behind, easy to maintain and repair. The high cost performance is worthy of your choice.
The 1.0T mini excavator can be equipped with accessories such as rotary drilling rigs, breakers, rippe rs, ditch buckets, screen buckets, loading buckets, grab buckets, etc., with higher added value.
Le QLN-10PRO, le poids de fonctionnement est de 1000 kg, équipé du moteur diesel KOOP. Le coton à isolation phonique réduit le bruit. Et nous acceptons les couleurs personnalisées de la mini pelle, vous pouvez choisir les couleurs que vous aimez, montrer votre style unique.
The total length of 1.0ton is 3300mm, the total width is 1100mm, and the total high is 2360mm. Agility is a major advantage. The tailless design is suitable for working in small spaces.
En soulevant le capot moteur, vous avez accès à l'ensemble de la machine, ce qui réduit les temps de maintenance et facilite son entretien.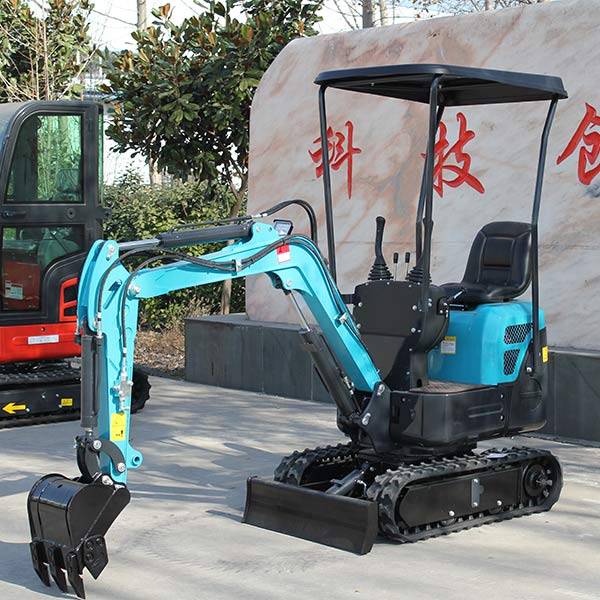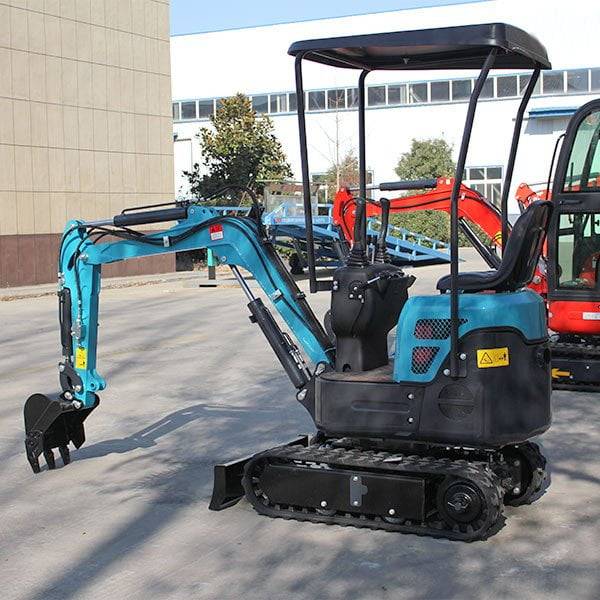 2.Fabricant d'excavatrice 1.0T QL-10Eco
The QL-10ECO,operating weight is 1000kg, equipped with the KOOP diesel single-cylinder engine , you can also choose KOOP EURO5, Briggs & Stratton gasoline engine. Large and medium excavators are powerless because the working environment is too narrow and complex, but our 1.0ton excavators are very flexible and can operate in small spaces without being affected by space constraints, is able to easily excavate on or next to walls.
It is sold with rubber crawler, which can help reduce damage to landscaping and roads in narrow construction areas during excavation.The crawler walking hydraulic excavator has excellent work efficiency and cost-effective quality; simple operation, small and flexible, and convenient transportation.
OEM 1.0T excavator manufacturer QL-10Eco,The newly designed Eco series 0.8T excavator integrates energy saving, small size, flexibility, powerful functions and low noise. It penetrates widely into small spaces such as construction sites, gardens, municipalities, and cities. put up.
The 1.0T excavator uses an engine that meets the national III and European V emission standards, with strong power, stable performance, smooth movement and low vibration; using well-known brand hydraulic components, stable work and high reliability; equipped with flexible working devices, easy to deal with Operations in the corners of narrow spaces in construction.
The 1.0T excavator is equipped with humanized design of pilot operation and switch control, which is convenient to operate and improve work comfort; it is convenient to maintain, and the integral hood is lifted behind, which is convenient for maintenance and repair;
1T excavator can be equipped with accessories such as rotary drill, breaker, ripper, trenching bucket, sieve bucket, charging bucket, grab bucket, etc., with higher added value. It is worth your purchase.
Characteristics of the 1 ton mini excavators in China
There are many types of mini excavators in China, but the most popular ones are the 1 ton mini excavators. The 1 ton mini excavators are usually used for small projects and they have a lot of features that make them popular. Some of the features that make the 1 ton mini excavators so popular are their compact size, easy maneuverability, and powerful engines.
The 1 ton mini excavators are very compact and they can easily navigate through tight spaces. Their powerful engines help them move large chunks of earth quickly and easily. Because of their small size, the 1 ton mini excavators are also perfect for smaller projects. They are also affordable, which makes them a good choice for budget-minded contractors.
Conclusion
If you're in the market for a mini excavator, be sure to check out our comprehensive list of 2 types 1 ton mini excavators in China. We've gathered some of the best options from top manufacturers so that you can find the perfect machine for your needs. So why wait? Start shopping today and make sure to take advantage of our amazing offers!