Rated power:40KW/61.8KW/77kw Total Weight:3010kg/3320kg/4230kg Bucket Capacity :0.55m³/0.55m³/0.78m³ Maximum unloading height:3200mm/3500mm/3500mm...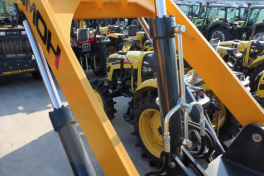 Double pump confluence hydraulic system
Double pump confluence hydraulic system, distribution on demand, double pump confluence when the speed is needed, easy operation, increase the lifting force and increase the lifting speed
Split clamp structure, easy repair and maintenance of the clamp without removing the rim and tire
large torque, strong power, low fuel consumption, wing-type maintenance design, hydraulic ejector support, to ensure safe maintenance and replacement of oil and filter element, fuel filter element, air filter element and supporting parts
Split and detachable cab, large space, good view, double door design
Integrated steering wheel, mechanical suspension seat, improve driving comfort
Digital instrument panel, mechanical joystick, improve ease of operation
Parameter
Model
Model
QL-936
QL-938
QL-952
Rated contained mass 
1600kg
1800kg
2000kg
Total Weight   
3700kg
4020kg
5230kg
Bucket capacity
0.55m³
0.55m³
0.78m³
Bucket width
1830mm
1830mm
2020mm
size(L×W×H)
5450*1890*2660mm
5750*1890*2660mm
6270*1960*2690mm
wheelbase
1470mm
1470mm
1560mm
Axle spacing 
2250mm
2300mm
2445mm
Max.unloading height
3200mm
3500mm
3500mm
Min.turning radius
4400mm
4500mm
4900mm
Mini.ground clearance
260mm
260mm
320mm
Boom lift
6.5s
4.67s
5.55s
Boom down 
4.62s
2.84s
4.74s
Trinomial sum
10.89s
9.23s
10.83s
Driving speed
LowⅠ(F/R)
5 km/h
5 km/h
6.5km/h
LowⅡ(F/R)
8.5 km/h
8.5 km/h
11km/h
HighⅠ(F/R)
18 km/h
18 km/h
21km/h
HighⅡ(F/R)
27 km/h
27 km/h
35km/h
Engine
model
QUANCHAI
YUNNEI
QUANCHAI
rated power
36.8kW
58.8kW
74kW
Rated speed
2400r/min
2400r/min
2400r/min
Any question, quote or inquiry? Click the button to send message.
Qilu Industrial will always here to help.