For those looking for a powerful, efficient, and cost-effective tractor, the 45 HP Tractor is a perfect choice. In this article, we'll explore all the features of this tractor and give you an insight into its power and capabilities. Plus, learn more about how it can help make your farming operations easier and more successful.
Introduction to 45 HP Tractor
45 HP Tractor are a great choice for those looking for a reliable and powerful tractor. With a 45 HP engine, these tractors are able to power through tough projects and get the job done quickly. There are many different features that make these tractors stand out from the competition, and we'll go over all of them in this article.
Power: The first thing you'll notice about a 45 HP tractor is the amount of power it has. With a 45 HP engine, these tractors can handle just about anything you throw at them. Whether you're mowing your lawn or plowing your driveway, a 45 HP tractor will have no problem getting the job done.
Reliability: Another great feature of 45 HP tractors is their reliability. These tractors are built to last, and they won't let you down when you need them most. You can count on a 45 HP tractor to get the job done right, every time.
Features: There are plenty of features that come standard on 45 HP tractors, such as 4-wheel drive, power steering, and hydraulic lift. Some models also come with air conditioning, which is a nice touch for those hot summer days. No matter what features you need, there's sure to be a 45 HP tractor that has them.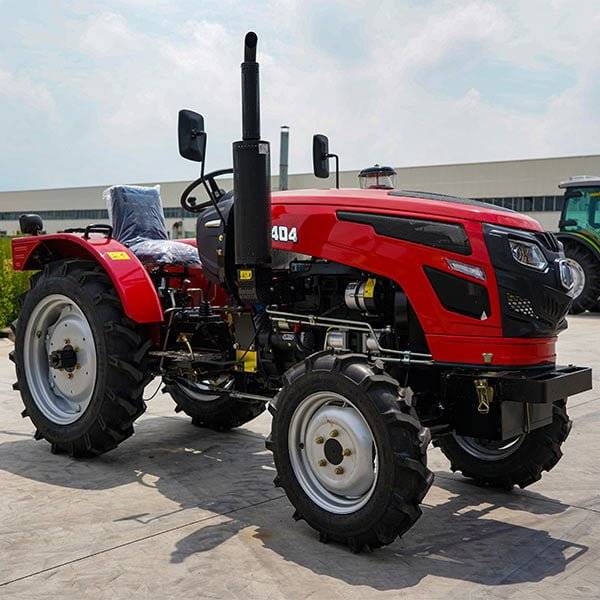 Features of a 45 HP Tractor
With 45 horsepower, this tractor is built for speed and maneuverability. It's perfect for a farmer who needs to get around their property quickly, or for someone who wants to take on lighter projects. Some of the features that make this tractor ideal for these purposes are its size, weight, and power.
The 45 HP tractor is smaller and lighter than some of the other models available on the market. This makes it easier to maneuver and transport. It also has enough power to complete most tasks without any issues.
The engine is reliable and fuel-efficient, so you won't have to worry about constant maintenance or unexpected repairs. And, with a comfortable seat and easy-to-use controls, you'll be able to work comfortably for hours at a time.
45 HP Tractor
OEM 40HP Trator Atacado QL-404E
EM 40HP Trator Atacado QL-404E, série econômica e prática trator 40HP, equipado com chassi tipo Y com estrutura Qilu avançada, pode atender às necessidades de diferentes máquinas agrícolas dos clientes, adequado para pequenas parcelas, como fazendas familiares, e pode atender às operações agrícolas em geral.
O trator 40HP adota um novo tipo de elevação de alta pressão, o que torna o trabalho mais conveniente e flexível. Eixo de tração dianteira de marca famosa com alta confiabilidade. Cilindro de óleo duplo externo opcional, o efeito de trabalho é melhor. O sistema de 8 + 2 turnos é adotado, a correspondência de velocidade é razoável e a eficiência do trabalho é alta. Sistema de direção hidráulica completo, operação fácil e flexível.
Motor de trator de 40HP, potência forte, desempenho estável, movimento suave e baixa vibração. Adote componentes hidráulicos de marcas conhecidas, trabalho estável e alta confiabilidade. Por exemplo, a velocidade da tomada de força pode ser selecionada entre várias velocidades. 540/720 rpm, trator de 40HP ergonomicamente projetado operação piloto e controle de interruptor, fácil de operar, melhora o conforto do trabalho; fácil de manter, fácil de manter e revisar.
O QL-404E é 40HP, vem com motor Laidong de quatro cilindros, Ⅱ estágios padrão. O motor possui tecnologia de refrigeração a água, que é superior à refrigeração a ar. O modo de condução é de tração nas quatro rodas. O volume do tanque de combustível é de 30L. A engrenagem de velocidade é 8+2, 8F+8R engrenagem de vaivém pode ser alterada. Lastro dianteiro, lastro traseiro, Rops e Canopy podem ser adicionados a seu pedido. O trator agrícola e todos os seus acessórios são garantidos por 1 ano.
Different Types of Attachments Available for a 45 HP Tractor
45 HP tractors offer a wide range of attachment options to suit your needs. From snow plows and blades to mowers and tillers, there's an attachment for just about everything. Here's a look at some of the most popular attachments available for 45 HP tractors:
Snow Plows: Snow plows are a must-have for anyone who lives in an area that gets snowfall. They attach to the front of the tractor and clear a path in front of the machine as it moves forward.
Blades: Blades attach to the back of the tractor and are used for clearing snow, leaves, and debris. They can also be used for grading roads or leveling land.
Mowers: Mowers attach to the front or back of the tractor and are used for cutting grass and other vegetation. Some models even have mulching capabilities, which chop up grass clippings and return them to the soil as natural fertilizer.
Tillers: Tillers attach to the back of the tractor and are used for breaking up soil, preparing gardens, or tilling fields. They come in various sizes to accommodate different acreages.