For those looking for a powerful, efficient, and cost-effective tractor, the 45 HP Tractor is a perfect choice. In this article, we'll explore all the features of this tractor and give you an insight into its power and capabilities. Plus, learn more about how it can help make your farming operations easier and more successful.
Introduction to 45 HP Tractor
45 HP Tractor are a great choice for those looking for a reliable and powerful tractor. With a 45 HP engine, these tractors are able to power through tough projects and get the job done quickly. There are many different features that make these tractors stand out from the competition, and we'll go over all of them in this article.
Power: The first thing you'll notice about a 45 HP tractor is the amount of power it has. With a 45 HP engine, these tractors can handle just about anything you throw at them. Whether you're mowing your lawn or plowing your driveway, a 45 HP tractor will have no problem getting the job done.
Reliability: Another great feature of 45 HP tractors is their reliability. These tractors are built to last, and they won't let you down when you need them most. You can count on a 45 HP tractor to get the job done right, every time.
Features: There are plenty of features that come standard on 45 HP tractors, such as 4-wheel drive, power steering, and hydraulic lift. Some models also come with air conditioning, which is a nice touch for those hot summer days. No matter what features you need, there's sure to be a 45 HP tractor that has them.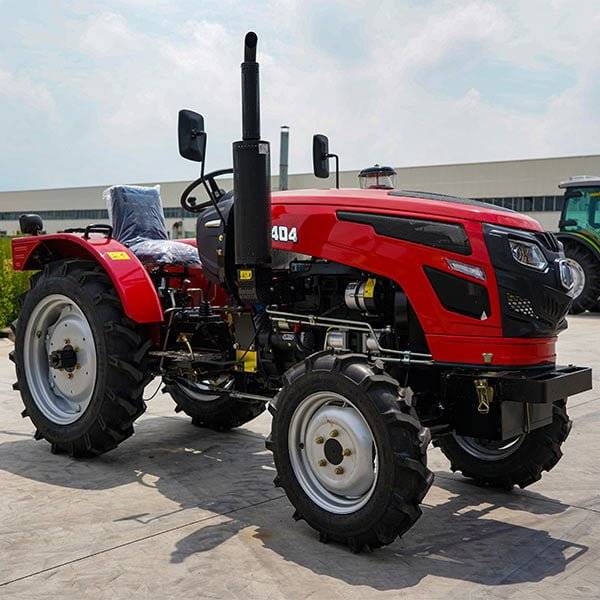 Features of a 45 HP Tractor
With 45 horsepower, this tractor is built for speed and maneuverability. It's perfect for a farmer who needs to get around their property quickly, or for someone who wants to take on lighter projects. Some of the features that make this tractor ideal for these purposes are its size, weight, and power.
The 45 HP tractor is smaller and lighter than some of the other models available on the market. This makes it easier to maneuver and transport. It also has enough power to complete most tasks without any issues.
The engine is reliable and fuel-efficient, so you won't have to worry about constant maintenance or unexpected repairs. And, with a comfortable seat and easy-to-use controls, you'll be able to work comfortably for hours at a time.
45 HP Tractor
OEM 40HP Tractor Wholesale QL-404E
EM 40HP Tractor Wholesale QL-404E,series economical and practical 40HP tractor, equipped with Y-type chassis with advanced Qilu structure, can meet the needs of different agricultural machinery of customers, suitable for small plots such as family farms, and can meet general agricultural operations.
Трактор мощностью 40 л.с. использует новый тип подъема высокого давления, что делает работу более удобной и гибкой. Передний ведущий мост известного бренда с высокой надежностью. Дополнительный внешний двойной масляный цилиндр, эффект работы лучше. Принята система 8+2 смен, согласование скоростей является разумным, а эффективность работы высока. Полностью гидравлическая система рулевого управления, простая и гибкая работа.
40HP tractor engine, strong power, stable performance, smooth movement and low vibration. Adopt well-known brand hydraulic components, stable work and high reliability. For example, the PTO speed can be selected from various speeds. 540/720 rpm,40HP tractor ergonomically designed pilot operation and switch control, easy to operate, improve work comfort; easy to maintain, easy to maintain and overhaul.
The QL-404E is 40HP,comes with Laidong four cylinders engine, Ⅱ stages standard. The engine owns water cooling technology, which is superior to air cooling. The driving mode is four-wheel drive. The fuel tank volume is 30L.The speed gear is 8+2, 8F+8R shuttle gear could be changed .And importantly it is equipped with manual differential lock,in order to avoid the difference wheel's speed cause accident.Some optional equipment such as Front ballast, Rear ballast, Rops and Canopy could be added upon your request.The farm tractor and all its accessories are guaranteed for 1 years.
Different Types of Attachments Available for a 45 HP Tractor
45 HP tractors offer a wide range of attachment options to suit your needs. From snow plows and blades to mowers and tillers, there's an attachment for just about everything. Here's a look at some of the most popular attachments available for 45 HP tractors:
Snow Plows: Snow plows are a must-have for anyone who lives in an area that gets snowfall. They attach to the front of the tractor and clear a path in front of the machine as it moves forward.
Blades: Blades attach to the back of the tractor and are used for clearing snow, leaves, and debris. They can also be used for grading roads or leveling land.
Mowers: Mowers attach to the front or back of the tractor and are used for cutting grass and other vegetation. Some models even have mulching capabilities, which chop up grass clippings and return them to the soil as natural fertilizer.
Tillers: Tillers attach to the back of the tractor and are used for breaking up soil, preparing gardens, or tilling fields. They come in various sizes to accommodate different acreages.