If you're in the market for a mini excavator, then you'll want to make sure that you have all the information necessary to find the machine that will be best for your needs. Yanmar Mini Excavator for sale, we'll review everything you need to know before buying a Yanmar mini excavator, from the types and features of machines available to the advantages and disadvantages of owning one. Read on to find out more about these powerful pieces of equipment!
Yanmar Mini Excavator for sale-What is a Yanmar Mini Excavator?
A Yanmar mini excavator is a small, tracked excavator that is often used for construction and landscaping projects. These excavators are nimble and versatile, making them ideal for tight spaces and difficult-to-reach areas. Mini excavators typically have an operating weight of less than 10 tons and a bucket size of 0.4 to 0.7 cubic meters. Yanmar is a leading manufacturer of mini excavators, and their machines are known for being durable and easy to operate.
Yanmar Mini Excavator for sale
Yanmar Mini Excavator for sale-Customized 2.5T Excavator Manufacturer QLN-25Pro
Customized 2.5T excavator manufacturer QLN-25Pro,as a newly designed 2.5T mini excavator, integrates energy saving, reliability, comfort, flexible operation and low noise. Widely used in construction sites, gardens, municipalities, cities and other small spaces.
The 2.5T mini excavator is equipped with imported Kubota engine. The disassembled cab, bucket, stick, cylinder guard and bottom plate are all made of high-strength cast steel. Super cost-effective, 1.7T mini excavator is worth your choice.
2.5T small excavator working device, pilot operation and switch control humanized design, easy to operate, improve work comfort, easy to maintain, the overall hood can be raised and lowered, easy to maintain and repair; the crawler is reduced to better meet the needs of small area operations .
The bucket, stick, cylinder guard and bottom plate of the 2.5T mini excavator are all made of high-strength cast steel. Super cost-effective, worthy of your choice.
It can be equipped with accessories such as rotary drills, breakers, rippers, trenching buckets, screen buckets, loading buckets, grab buckets, etc., with higher added value.
If you need 2.5T excavator, please contact us, Qilu will provide you with expert service.
The QLN-25PRO is equipped with imported Yanmar engine from Japan. Operating weight is 2500kg. The bucket volume of this excavator is 0.066 cubic meter. The maximum digging height of QLN-25PRO is 2550mm, The maximum digging depth is 2320mm, The maximum digging reach is 4140mm.
In order to let customers have more convenient work experience, The QLN-25PRO has the following optional upgrades:the chassis stretch and the side swing of excavator arm. The bulldozer blade also can stretch from 1300mm to 1500mm.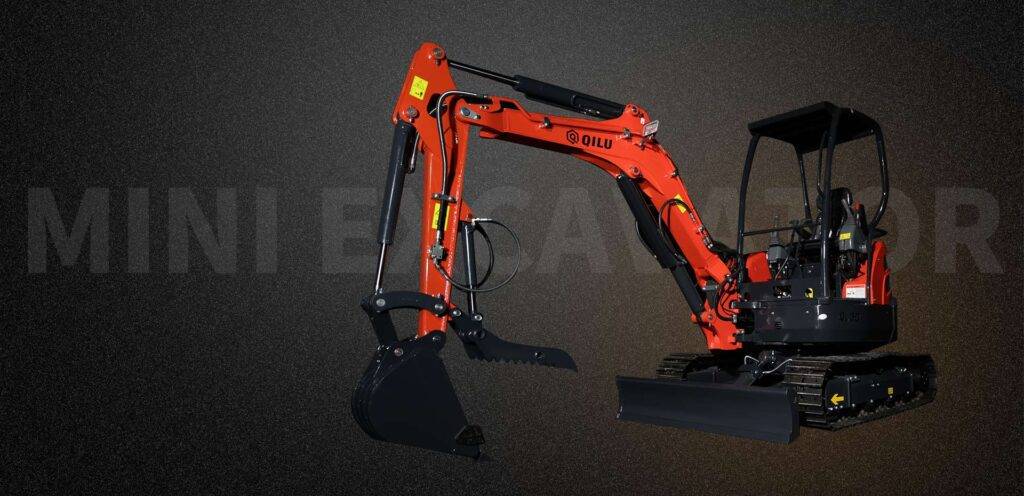 Yanmar Mini Excavator for sale-Benefits of Owning a Yanmar Mini Excavator
When it comes to excavators, there are many different types and sizes on the market. So, how do you know if a Yanmar mini excavator is the right choice for you and your project? In this blog post, we'll go over everything you need to know about these versatile machines, including their benefits and features.
Yanmar mini excavators are perfect for a variety of projects, both big and small. Here are just a few of the benefits of owning one:
They're easy to operate and maneuver.
They're compact in size, making them perfect for tight spaces or areas with limited access.
They're incredibly versatile and can be used for a variety of tasks, such as digging trenches, breaking up concrete, or removing tree stumps.
They're durable and built to last, meaning you won't have to replace your excavator anytime soon.
They offer a great return on investment and can help save you money in the long run.
Yanmar Mini Excavator for sale-Conclusion
No matter what kind of job you have planned for a Yanmar mini excavator, it's important to do your research and make sure you're making the right purchase. With this guide to buying a Yanmar mini excavator, we hope that you now feel more confident in choosing the perfect model for your project. Be sure to take into account all of the factors we discussed here when shopping around so that you can find an excavator that meets all of your needs and expectations. Good luck!