A 2000lb mini excavator can be used in a variety of settings, indoors or outdoors. The work load depends on the jobs you are doing. For example, it is perfect for landscaping as it will move around dirt and cut shrubs close to the ground. However, if you are digging with it, you will need a bigger machine.
Pros and Cons of the 2000 lb mini excavator
There are a few things you need to take into consideration when purchasing a mini excavator. The weight is one of the main concerns because it will determine how much power the machine has. If you're looking for a powerful machine, then you'll want to go with a heavier model. However, if you don't need as much power, then you can save money by going with a lighter model.
Another thing to consider is the size of the machine. You need to make sure that it will be able to fit in the space that you have available. If you have a small backyard, then you won't be able to use a large excavator. Conversely, if you have a lot of land to work with, then you can go with a bigger machine.
The final thing to think about is the price. Excavators can range in price from a few hundred dollars to several thousand dollars. It all depends on what features you're looking for and how big of a machine you need. If you only need something small and basic, then you can get away with spending less money. However, if you need something more powerful or feature-rich, then expect to pay more money.
Best 2000 lb mini excavator
Miniexcavadora 2.0T personalizada Fabricante QLN-20Pro
Fabricante personalizado de excavadoras 2.0T QLN-20Pro,Como una miniexcavadora 2.0T de nuevo diseño, integra ahorro de energía, confiabilidad, comodidad, operación flexible y bajo nivel de ruido. Es ampliamente utilizado en espacios pequeños como obras de construcción, jardines, municipios y ciudades.
Conveniente y flexible:
La miniexcavadora 2.0T está equipada con un motor Kubota importado, el chasis es retráctil, la hoja topadora plegable, el ancho de trabajo es flexible, el dispositivo de trabajo de deflexión, adecuado para varias esquinas, control hidráulico, operación más flexible, línea de cambio rápido hidráulico, fácil de instalar varios accesorios; levante la tapa trasera general, abra la tapa trasera para el trabajo de mantenimiento de rutina;
Customized 2.0T mini Excavator safe and comfort:
La miniexcavadora 2.0T está diseñada para evitar el vuelco y la caída de objetos. Hay dos opciones de configuración para cabina y cabina. Toda la máquina cumple con los requisitos de certificación CE. El ventilador de nido de abeja en el modelo de cabina mejora la comodidad del trabajo de invierno.
El cucharón, el balancín, la protección del cilindro y la placa inferior están hechos de acero fundido de alta resistencia. Con un rendimiento de costo extremadamente alto, vale la pena elegir una miniexcavadora 2.0T.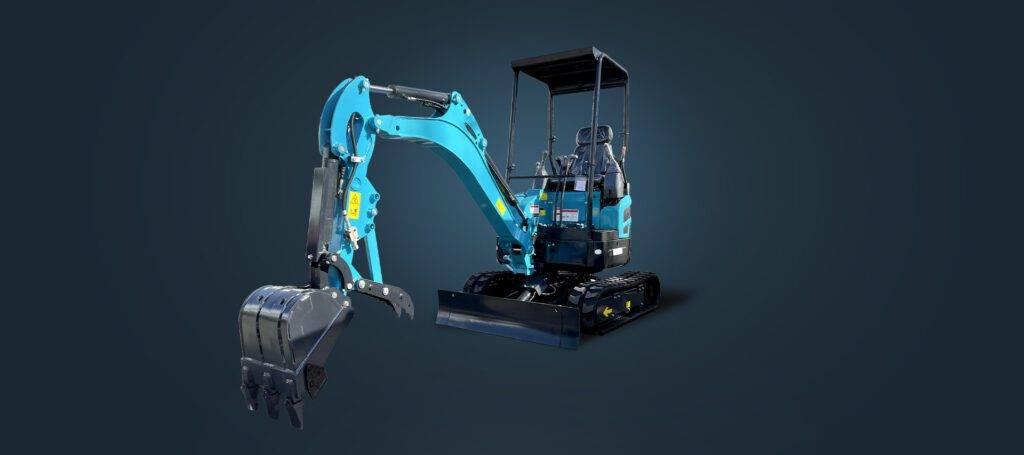 What to Consider Before Buying a 2000 lb mini excavator
When you are in the market for a new mini excavator, there are a few things that you need to take into consideration before making your purchase. The first thing you need to decide is what size excavator you need. The 2000 lb mini excavator is a great choice for those who need a smaller sized machine. This excavator is perfect for tight spaces and can even be used in your backyard if you have the room.
The next thing you need to consider is what type of ground you will be using the excavator on. If you are only going to be using it on soft ground, then you won't need as much power and can get away with a smaller machine. However, if you are planning on doing any digging in harder soil, then you will need a more powerful machine. The 2000 lb mini excavator has enough power to handle most projects, but if you know you'll be working in tough conditions, then you may want to look at a larger model.
Finally, think about how easy the machine is to operate. Some models of mini excavators can be quite complicated and require two people to operate them effectively. If this is something that concerns you, then make sure to look for an excavator that is easy to use and comes with clear instructions. Many models of the 2000 lb mini excavator come with operator manuals that will help make your life easier when it comes time to use the machine.
How to Operate a 2000 lb Mini Excavator
Assuming you have a basic understanding of how excavators work, operating a 2000 lb mini excavator is not much different than operating a larger excavator. The main difference is that mini excavators are much lighter and more maneuverable, making them ideal for tight spaces and smaller jobs.
To operate a 2000 lb mini excavator, start by reading the operator's manual to familiarize yourself with the controls. Then, position the excavator at the desired digging site and lower the bucket to the ground. Next, engage the tracks by depressing the left pedal, then use the right pedal to begin moving forward or backward.
To dig, lower the bucket into the ground using the joystick and then begin moving forward or backward to scoop up dirt. To dump the dirt, simply raise the bucket back up and release the joystick. You can also use the tracks to rotate the cab of the excavator 360 degrees for better visibility while working.