For those looking for a powerful, efficient, and cost-effective tractor, the 45 HP Tractor is a perfect choice. In this article, we'll explore all the features of this tractor and give you an insight into its power and capabilities. Plus, learn more about how it can help make your farming operations easier and more successful.
Introduction to 45 HP Tractor
45 HP Tractor are a great choice for those looking for a reliable and powerful tractor. With a 45 HP engine, these tractors are able to power through tough projects and get the job done quickly. There are many different features that make these tractors stand out from the competition, and we'll go over all of them in this article.
Power: The first thing you'll notice about a 45 HP tractor is the amount of power it has. With a 45 HP engine, these tractors can handle just about anything you throw at them. Whether you're mowing your lawn or plowing your driveway, a 45 HP tractor will have no problem getting the job done.
Reliability: Another great feature of 45 HP tractors is their reliability. These tractors are built to last, and they won't let you down when you need them most. You can count on a 45 HP tractor to get the job done right, every time.
Features: There are plenty of features that come standard on 45 HP tractors, such as 4-wheel drive, power steering, and hydraulic lift. Some models also come with air conditioning, which is a nice touch for those hot summer days. No matter what features you need, there's sure to be a 45 HP tractor that has them.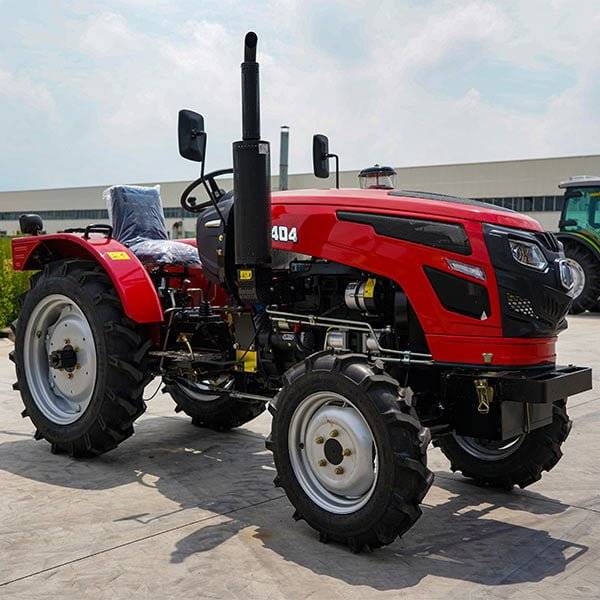 Features of a 45 HP Tractor
With 45 horsepower, this tractor is built for speed and maneuverability. It's perfect for a farmer who needs to get around their property quickly, or for someone who wants to take on lighter projects. Some of the features that make this tractor ideal for these purposes are its size, weight, and power.
The 45 HP tractor is smaller and lighter than some of the other models available on the market. This makes it easier to maneuver and transport. It also has enough power to complete most tasks without any issues.
The engine is reliable and fuel-efficient, so you won't have to worry about constant maintenance or unexpected repairs. And, with a comfortable seat and easy-to-use controls, you'll be able to work comfortably for hours at a time.
45 HP Tractor
Tracteur OEM 40HP en gros QL-404E
Tracteur EM 40HP en gros QL-404E, série économique et pratique Tracteur 40CV, équipé d'un châssis de type Y avec une structure Qilu avancée, peut répondre aux besoins des différentes machines agricoles des clients, adapté aux petites parcelles telles que les fermes familiales, et peut répondre aux opérations agricoles générales.
Le tracteur 40HP adopte un nouveau type de levage haute pression, ce qui rend le travail plus pratique et flexible. Essieu moteur avant de marque célèbre avec une grande fiabilité. Double cylindre d'huile externe en option, l'effet de travail est meilleur. Le système de changement de vitesse 8 + 2 est adopté, la correspondance de vitesse est raisonnable et l'efficacité du travail est élevée. Système de direction hydraulique complet, opération facile et flexible.
Moteur de tracteur 40HP, puissance élevée, performances stables, mouvement fluide et faibles vibrations. Adoptez des composants hydrauliques de marque bien connus, un travail stable et une grande fiabilité. Par exemple, la vitesse de prise de force peut être sélectionnée parmi différentes vitesses. 540/720 tr/min, tracteur 40HP ergonomique et commande de l'interrupteur, facile à utiliser, améliore le confort de travail ; facile à entretenir, facile à entretenir et à réviser.
Le QL-404E est 40HP, est livré avec un moteur Laidong à quatre cylindres, Ⅱ étapes standard. Le moteur possède une technologie de refroidissement par eau, qui est supérieure au refroidissement par air. Le mode de conduite est à quatre roues motrices. Le volume du réservoir de carburant est de 30L. Le rapport de vitesse est de 8 + 2, le rapport de navette 8F + 8R peut être changé. Lest avant, lest arrière, Rops et Canopy peuvent être ajoutés à votre demande. Le tracteur agricole et tous ses accessoires sont garantis 1 ans.
Different Types of Attachments Available for a 45 HP Tractor
45 HP tractors offer a wide range of attachment options to suit your needs. From snow plows and blades to mowers and tillers, there's an attachment for just about everything. Here's a look at some of the most popular attachments available for 45 HP tractors:
Snow Plows: Snow plows are a must-have for anyone who lives in an area that gets snowfall. They attach to the front of the tractor and clear a path in front of the machine as it moves forward.
Blades: Blades attach to the back of the tractor and are used for clearing snow, leaves, and debris. They can also be used for grading roads or leveling land.
Mowers: Mowers attach to the front or back of the tractor and are used for cutting grass and other vegetation. Some models even have mulching capabilities, which chop up grass clippings and return them to the soil as natural fertilizer.
Tillers: Tillers attach to the back of the tractor and are used for breaking up soil, preparing gardens, or tilling fields. They come in various sizes to accommodate different acreages.